Jessica Griscavage, CTA
Founder
I have been in the travel industry for 19 years and have never looked back. See my journey on our Awards/Accolades page and my 100% recommended rating on Virtuoso. Over the past decades I have enjoyed working with my clients and creating relationships to really meet the needs and expeditions of each individual. My clients are like family to me.
My passion for travel inspired me to experience various types of travel, so I can truly find the best fit for my clients. I love expanding my knowledge of destinations and experiences to include things like iconic cities, diverse cruises, villa rentals, dude ranches, escorted groups, and incredible beaches, to name a few. I loved the freedom of exploring Italy with no set schedule on my villa vacation. Still, I also appreciated the stress-free nature of seeing the National Parks with an organized tour group. It's my goal to match the perfect destination and product with my client, and I especially love family travel! My greatest pleasure is creating memories and special moments for my clients.
Traveling with my family has been some of my favorite moments in life. My son had his passport at four months old and has enjoyed everything from skiing in Deer Valley to cheese making in Italy to whale watching in Alaska. It has been so fun and an honor to show him the world as we get more globally connected. If I could give a young family advice, I would tell them don't give up traveling with their kids. I want to be an example to my clients that travel can remain a part of life with children and aging parents.
If anything, the last two years have taught us that life is short and precious. This sentiment has taken on so much more meaning…" I travel because I'd rather look back at life saying, "I can't believe I did that" instead of "If only I had."
To turn your dreams and travel plans into reality, please contact me at jessica@runwaytravelco.com.
Jennifer Polito Waigand, CTA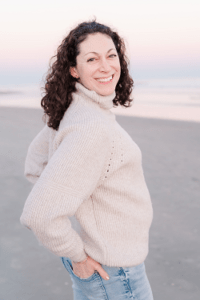 Travel Advisor
I have been a travel advisor since 2015, a Virtuoso Member, and specialize in custom itineraries for luxury, active, honeymoon, and independent travelers. My passion for travel started with my own travel research, and after 10 years of corporate marketing and a MBA, I made a career change to travel which allowed me to combine skill and passion as a professional travel advisor. Follow my travel adventures on Instagram.
I have traveled extensively inside the United States, including Hawaii, as well as around the Caribbean and Europe. I enjoy active travel, visiting both the attractions you must see, as well as finding those off the beaten path. Now that my husband and I have two little boys, and one big dog, I am excited to show my children the world as they grow up. I believe that these travel experiences are the most valuable gift we can give them.
Travel is fun in all four seasons, each with its unique characteristics and reasons to visit a new destination. I look forward to helping others find the joy in, and increase the value of, their travel experience! jennifer@runwaytravelco.com
Amanda Taylor, Travel Advisor
I am excited to join the Runway team and look forward to helping clients make lasting memories.  I come to Runway with over 15 years of customer service experience. After my kids left for college, it was time to make a career change and focus on my passions. I have always loved traveling and learning about new locations, becoming a Travel Advisor was the perfect choice. When my kids were young, we brought them to all-inclusive resorts and they still reminisce about the memories with their cousins. As the kids grew older, we started taking an annual couples trips visited some amazing places.
I am detail oriented and have an eye for the little things that make a big difference. I look forward to developing long term, client relationships and helping make your next memories. Please contact me at  Amanda@runwaytravelco.com
"Traveling- it leaves you speechless, then turns you into a storyteller" – Ibn Battuta
Mariah Jardine, Director of Social Media

Being a part of Runway Travel has been remarkable. It's given me the opportunity to learn about different parts of the world and expand the list of my future travel locations. I take pride in being very ambitious and work focused. The great thing about being in the travel industry is traveling is work!
My main responsibilities with Runway Travel Company include any admin work and assisting Jessica when needed. In addition, If Jessica is away you most likely will be in contact with me for any travel assistance. Jessica and I make a great team and can accomplish all of your travel requests swiftly and efficiently.
Since I was a kid I've had a strong passion for traveling and experiencing new cultures. My first trip was to Minnesota at 1 years old and it has become a location that I still love to vacation to. My favorite places to travel are beach destinations; that's when I'm happiest. I recently traveled to Turks & Caicos which is perfect for any beach or island vacation.
My list of places to travel keeps getting longer and I'm excited for Runway to be a part of all my future travels! mariah@runwaytravelco.com.
Jennifer Dennis, Website Director
I'm a freelance marketing and small business consultant. It's been an honor to work with Runway Travel since day one and so exciting to be part of it's growth and success, particularly coming out of a pandemic! I created the website and my ongoing responsibilities include creating new, relevant content and collaborating with the Runway team to deliver value to our clients.
Raising our children and our families living on two continents made vacations precious and challenging. I can absolutely relate to how planning a vacation with toddlers is completely different from a multi-generational trip with elders with mobility issues. I love working for a company that values and understands that. As we're getting ready to empty our nest, we can't wait to focus on us and travel is a top priority! Egypt, the Albuquerque hot air balloon festival and Japan are musts! Creating and promoting content with our partners to accomodate our client's travel needs and wants has been an incredibly gratifying experience. jdennis@runwaytravelco.com