Virtuoso Travel Week 2019 – Jen's Summary
I just returned from attending my third Virtuoso Travel Week and my first with McCabe World Travel. While I am very much a newbie compared to some, and a little bit more experienced than others, I think the beauty of going to this conference is that every time I learn something new, experience something different, and make new and lasting connections while solidifying current ones. These connections are really the main reason for attending Travel Week in my opinion. As an affiliate of McCabe World Travel, a home based agent, I love any and all opportunities to spend more time with the team in and out of the office. Not every goes to Travel Week, its a choice and an option, but for the group that is there, it's great to be able to get to know the other staff and home based agents both personally and professionally while learning from one another and having fun. I was also invited by Virtuoso to be on a panel of Virtuoso Certified Travel Advisors (VCTA) Graduates to speak about my experience since taking the course, and I consider it an honor to be asked and participate on such a select panel.

On the partner side, at VTW I am able to put faces with names and email addresses of those who have helped plan trips and experiences for clients so that the next time I need to send a client their way, they remember me and can go above and beyond for a friend and colleague, not just an email address. This human connection I make for my clients will always drive greater value than any algorithm or online booking site. These suppliers value it too. Just look at this registration graphic from this year's Opening Ceremony event.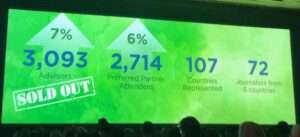 The number of preferred partners in attendance at Virtuoso Travel Week was up 6% year-over-year to include 2,714 members from 107 different countries. This is amazing for the Virtuoso community and this number continues to grow every year. What my clients and travelers don't know and that I think is worth pointing out, is that it is NOT CHEAP for these preferred partners to attend VTW. Depending on the level of involvement, sponsorships, number of representatives sent, distance traveled, and parties hosted, this number is tens of thousands of dollars on average. We are talking a lot of money for one week. The General Manager of hotel properties and CEOs of cruise lines, tour companies, and on-site partners comes to this event. They choose to make this investment in time and money because that's how much business and value the Virtuoso network of agents and agencies provides to them. Virtuoso agents send these companies travelers and guests who provide value and lasting relationships, not just one off bookings like they get from online sites. And that's because Virtuoso is the best loyalty program there is.
Further supporting this are the numbers behind the Virtuoso network. According to an article from AFAR magazine, it is estimated that the "speed-dating" appointments that occur during Travel Week lead to $420 million in travel sales. This article also shows the growth of Virtuoso advisors and their sales, which I've made colorful below: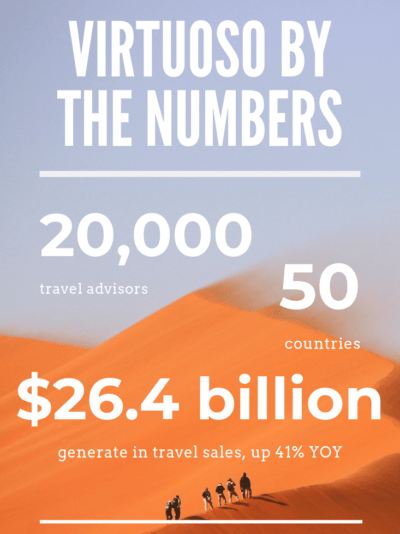 I tell you all of this so you too can see the value is keeping your long-term travel planning business with a Virtuoso advisor who can be your trusted partner and consultant in making your wanderlist of travel dreams a reality.